Welcome
To The Parishes of St. Felix and St. Agnes Catholic Churches
Mass Livestream from St. Felix
Bishops Decree
Read the latest decrees from Bishop Quinn regarding the reinstatement of Sunday Mass obligation.
Mass Times
Sunday Mass
Saturday 4:30 pm St. Felix, Wabasha
Sunday 8:00 am St. Agnes, Kellogg
Sunday 9:30 am St. Felix, Wabasha

Daily Mass
Tuesday 9:00 am St. Felix, Wabasha
Wednesday 9:00 am St. Agnes, Kellogg
Thursday 9:00 am St. Felix, Wabasha
Friday 11:00am St. Felix, Wabasha
Reconcilation
Saturday 3:45pm St. Felix
Sunday 7:30am St. Agnes
For Reconcilation at other times, please contact Fr. Frerichs directly.
Office Hours
Monday - Thursday: 8:00 am to 3:00 pm
Friday: 8:00 am to Noon
Charles Passe Scholarship
Charles I. Passe Endowment Fund
2022 -2023 Scholarship Program
Applications Now Available
Deadline May 20, 2022
This year, up to $48,000 will be awarded to local qualified parishioner students who are enrolled in a diploma, certificate, and/or associate degree program at a trade/technical school.
Information and applications are available at/on the following locations:
St. Felix/Agnes website and parishes office
Immaculate Conception parish and website
Wabasha-Kellogg School counselor's office
PEM High School counselor's office, and
Catholic Foundation of Southern
Minnesota website at www.catholicfsmn.org/granting
Garage Sale
St Felix Garage Sale
May 5………….Thursday.....7:30 am - 5:00 pm
May 6………….Friday……..7:30 am - 5:00 pm
May 7………….Saturday..…8:00 am - 11:30 am
St Felix Auditorium
100 3rd Street East
Wabasha, MN
DONATIONS GREATLY APPRECIATED!!
No TV's, computers, or exercise equipment
Items can be left inside the St. Felix Auditorium from 7:30 am - 1:00 pm, April 19 thru May 3 (school days only). Also Wednesday, May 4 from 7:30 am - 4:00 pm
Please use the Pembroke Ave. side door entrance.
Thank you for your support and donations!
Questions? Contact Dave or Mary Pfeilsticker at (651) 565-4486
All proceeds go to St. Felix Grade School
Sponsored by the St. joseph Council of Catholic United Financial
Online Giving
Job Opening - St. Felix and St. Agnes Parishes
Parish Administrative Assistant
Wabasha, MN
Job Description
The clustered parishes of St. Felix, Wabasha and St. Agnes, Kellogg is looking for an administrative assistant who will serve as a support person in the organizational functions and daily operations of both parish communities. This person provides administrative support to the Pastor, assists in the physical operations of the church office, and in maintaining the parish office in a professional, pleasant, and efficient manner.
The qualification of a successful candidate includes:
A practicing Catholic
Good verbal, written and interpersonal skills
Computer skills, including knowledge of Microsoft Office
Ability to work collaboratively with co-workers and parishioners
Strong multi-tasking, organizational, and time management skills
Ability to maintain accurate records, oversee some financial transactions, and preserve confidentiality at all times regarding persons and information
The position offers 30-35 hours/week, competitive pay, and full benefits. Qualified applicants are invited to requestion a job description from St. Felix Catholic Church at: [email protected].
Applicants may send a cover letter, resume, and list of references to:
St. Felix Catholic Church
Rev. Glenn Frerichs
117 3rd Street W
Wabasha, MN 55981
Applications must be completed by March 1, 2022 or until the position is filled with the appropriate candidate.
School
Bishop Andrew Cozzens, as Vicar of Catholic Education for the Archdiocese of St. Paul and Minneapolis, has an urgent request that he has asked us to share with every priest, parish, and school. You can watch his short video message here.
Right now legislators and Governor Walz have multiple proposals in front of them that can make real educational choices more accessible to parents and their children. Students, who urgently need access to schools that meet their unique educational needs, ask you and all people of good will to speak out now!
As a Catholic, your leadership on this issue is needed so that more people will take action.
Here are four things you can do to make an immediate impact:
Send a message to your State Representative, Senator, and Governor Walz
Encourage parents at your Catholic school to contact lawmakers
Encourage your parishioners to speak out
Find further resources here.
Thank you for taking the time to help bring better access to real educational opportunities to Minnesota kids.
Bible in a Year
Ascension's Bible in a Year Podcast, hosted by Fr. Mike Schmitz, guides Catholics through the Bible in 365 daily episodes starting January 1st, 2021. Each 20-25 minute episode includes: two to three scripture readings a reflection from Fr. Mike Schmitz; and guided prayer to help you hear God's voice in his Word. IT'S FREE--- Learn more and get the reading plan at ascensionpress.com/bibleinayear or text CATHOLICBIBLE to 33-777.
***Parishioners from St. Felix and St. Agnes participating in these podcast can connect once a week via a 30 minute Zoom( if you so desire) and share how it's going and what new or exciting insight you are learning. Let me know if you are interested: text or call 651-764-1218.
Topic: Bible in a Year
Time: This is a recurring meeting Thursday at 7PM
Join Zoom Meeting
https://us02web.zoom.us/j/86774628539?pwd=ejlNMG54MkRRMWNzRVZkWERhUUhMUT09
Meeting ID: 867 7462 8539
Passcode: 3264
Daily Readings
Weekly reading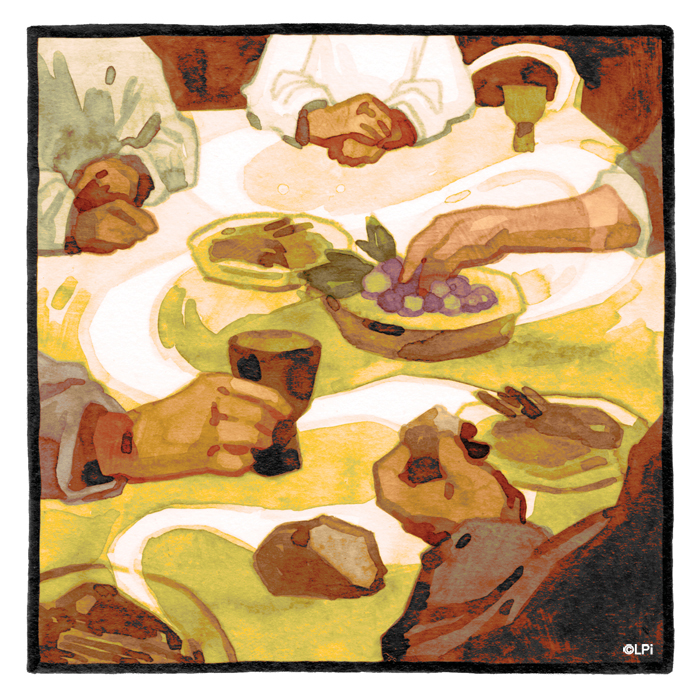 Weekly reading
Readings for the week of May 15, 2022
© Liturgical Publications Inc